There is a project that I would have done, now never to be realized, about turning acres of plastic seepage geomembranes into a dusky eyeshadow for the eco-glamor set.  But as happens during catastrophic times, terms of engagement and material possibilities are radically altered, former versions cede to downgrade 2.0.  
Meanwhile, all the ideas we exchanged about reclamation, histories embedded in waste, landscape as waste, and the continuous transformations of materiality through interlocking systems of infrastructure – they became the seepage that then flowed into the development of another project, the most recent chapter of Pink Slime Caesar Shift.  This body of work is loosely based on the possibility of creating alternative activist networks through genetic biohacking, while it is also an alternate historiography of feminist labor activism in China.  
Pink Slime Caesar Shift: Gold Loop is a video that reflects on e-waste (old computers, cell phones, and other domestic electronics), the disappearance of labor activists in China, and the resulting possibilities of political resistance.  Firsthand accounts of female electronics workers in South China are cut with corporate and industrial texts in order to investigate the physical, legal, and biochemical realities of gold extraction from e-waste.  Live action video and animation explore the psychogeography of "virtuous" first-world recycling vs third-world biopolitical devastation.   Themes of mirroring, mutation, and disintegration are grounded in considering electronics that poison bodies in their initial production as well as in their return for disassembly, an infernal eternal return, a "gold loop."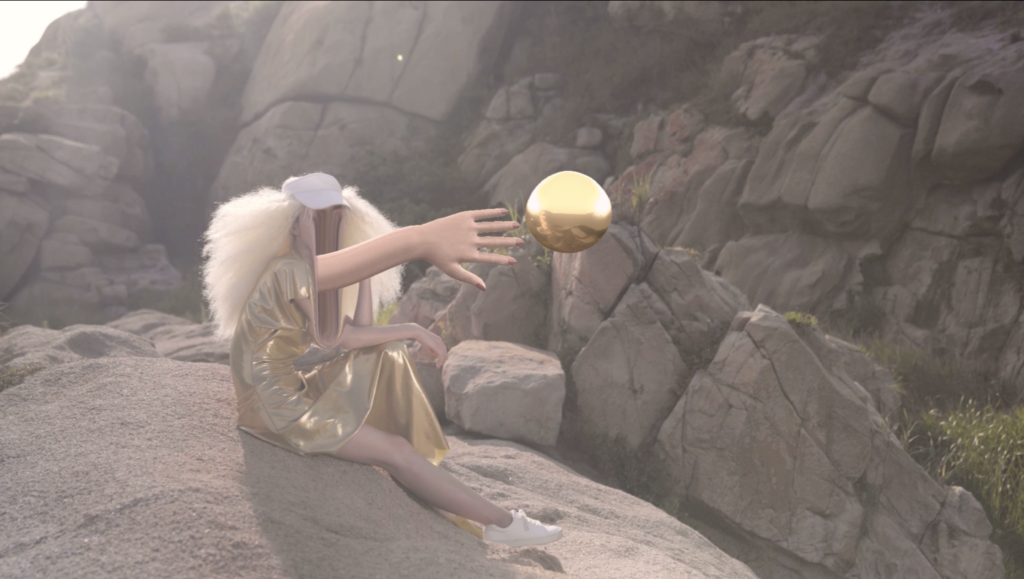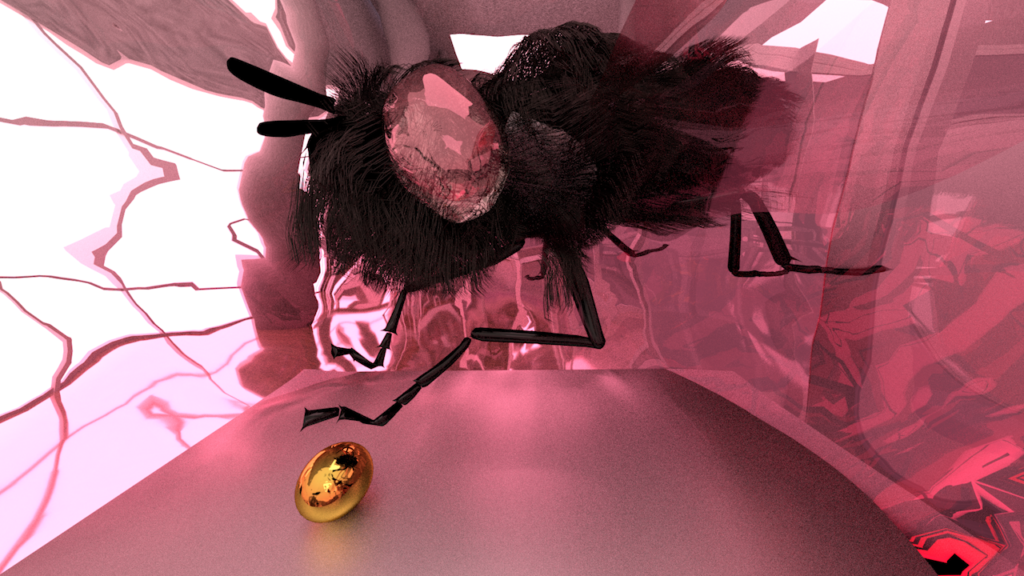 In the first part of the video, gold orbs are everywhere in the landscape and in the body of a corporate worker. We later see this same worker teach a course on "circular economics," a technical term corporations use to justify the production of electronics, claiming to have e-waste recycling in mind. But tidy terms like "circular economics" obscure the actual process: drums of caustic acids and toxic burnoff that can't be contained or disposed, which will have terrible consequences for generations to come.  Global environmental racism depends on the seeming disappearance of such consequences.  Meanwhile, Chinese labor activists are kidnapped — "disappeared" — in response to protesting their exposure to toxins. There's no present solution to these state-sponsored kidnappings. But can we imagine other possibilities for disappearance, if disappearance is unavoidable? Perhaps there is a speculative future in which workers can use a historic, anti-colonial method of political resistance: collective disappearance through mass departure and burial of all material traces. Whether it is hopeful or cynical, a practical suggestion or metaphor, it is an attempt to answer: how to make the most of one's inevitable disappearance?
This video was shot in Dishui Lake District, China (artificial land-reclamation project with circular manmade lake in the center), and Birmingham, UK (Millennium Point redevelopment area).
CREDITS
Director of Photography, Shanghai: Samantha Lu
Director of Photography, Birmingham: Aurelia Bergs
Camera B, Shanghai: Zhihao Ling
Gaffer, Shanghai: Tongtong
Camera Assistant, Birmingham: Josh Bister
Producer, Shanghai: Vera Zhou
Producer, Birmingham: Chistina Millare
Performer, Shanghai: Jun Jia Zhang
Performers (in order of appearance), Birmingham: Yuyu Rau, Shelley Eva Haden, Romanah Malcolm, Xinyue Zhang, Athina Matap
Set Assistants, Birmingham: Wu Cong, Ma Wenyi, Cheng Fan
Voiceover, English: Corey Tazmania
Voiceover, Chinese: Althea Rao
Watch Pink Slime Caesar Shift: Gold Loop:
Jen Liu, Pink Slime Caesar Shift: Gold Loop, (2020-21), 4K video, 4-channel sound, Running Time: 28 minutes.